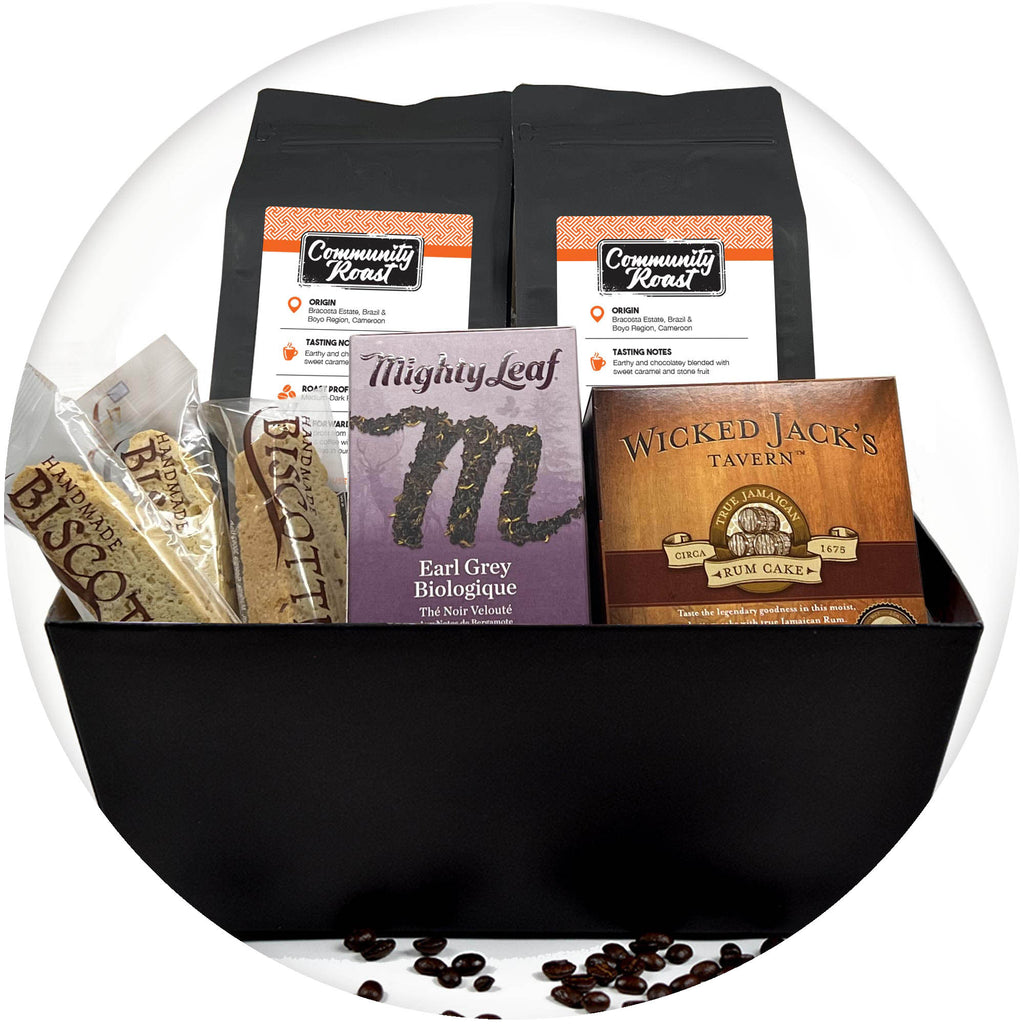 Joe's Deluxe Wicked Relaxed Community Good gift tray includes two 16oz. bags of Joe's Community Roast coffee, a hand-crafted blend of Cameroon Boyo, aromatic and full-bodied, and Brazil Cerrado, filled with a taste of sweetness and chocolate notes. We've paired this blend with four scrumptious handmade traditional Italian-style Joe's Almond Biscotti made right in Joe's kitchen, a 15-count box of Mighty Leaf Organic Earl Grey Tea, and a 4oz Wicked Jack's Tavern Butter Rum Cake. Displayed with love in an elegant black gift tray for a beautiful presentation. Roasted and shipped within hours of your order, this gift will not only warm your customers' hearts with its delicious taste, but knowing your gift is doing good for the lives of many.  
Deluxe Wicked Relaxed Community Good gift tray includes:
(2) 16 oz Community Roast Coffee
(4) Joe's Almond Biscotti
(1) 15 count box of Mighty Leaf Organic Earl Grey Tea
(1) 4 oz Wicked Jack's Tavern Butter Rum Cake
Community Roast Coffee
Community Roast is a blend of Cameroon BoyoTM and Brazil Cerrado medium-dark roasted coffees that perfectly embody the idea of community. Sourced from local farmers from these regions, profits are re-invested into their own communities and, in the U.S., 100% of the profit from your purchase supports those in need through Good Dog Fund, a 501(c)3 fund managed by the Cobb Community Foundation.
Community Roast, not only do you get to explore two different regions of the world but you also get to impact the lives of those who need support, one cup of Joe's at a time.  
Joe's Almond Biscotti
Traditional Italian-style almond biscotti. Custom-crafted, twice-baked and packaged separately, these scrumptious cookies are made with love from a Joe's family favorite recipe, right in Joe's kitchen! The perfect pairing with your favorite cup of Joe's, or just nibbling on their own!  
Mighty Leaf Earl Grey Tea
Organic Earl Grey black tea is made of rich organically grown black tea leaves and golden buds with a twist of citrusy organic bergamot. Mighty Leaf perfects the classic flavored tea with an elegant, balanced and full-flavored cup and organic tea leaves. Earl Grey himself would be proud - especially drinking this blend in our silken tea pouch, our take on the gourmet tea bag.   
Wicked Jack's Tavern Butter Rum Cake
Rum lovers and cake lovers will both fall for the exquisite, rich, full taste of Wicked Jack's Tavern True Jamaican Rum Cakes. Carefully crafted recipes derived from generations of Jamaican tradition has produced a rum cake so flavorful, so powerful, it's quickly gained a reputation as the best tasting rum cake available anywhere. Moist, buttery texture and a rum soaked glaze add delicious detail that makes all other rum cakes walk the plank. You'll be swept away with the sweet flavor of homemade caramel, soaked in the finest Jamaican rum. This ready to eat cake is vacuumed sealed in a re-useable bakeware.