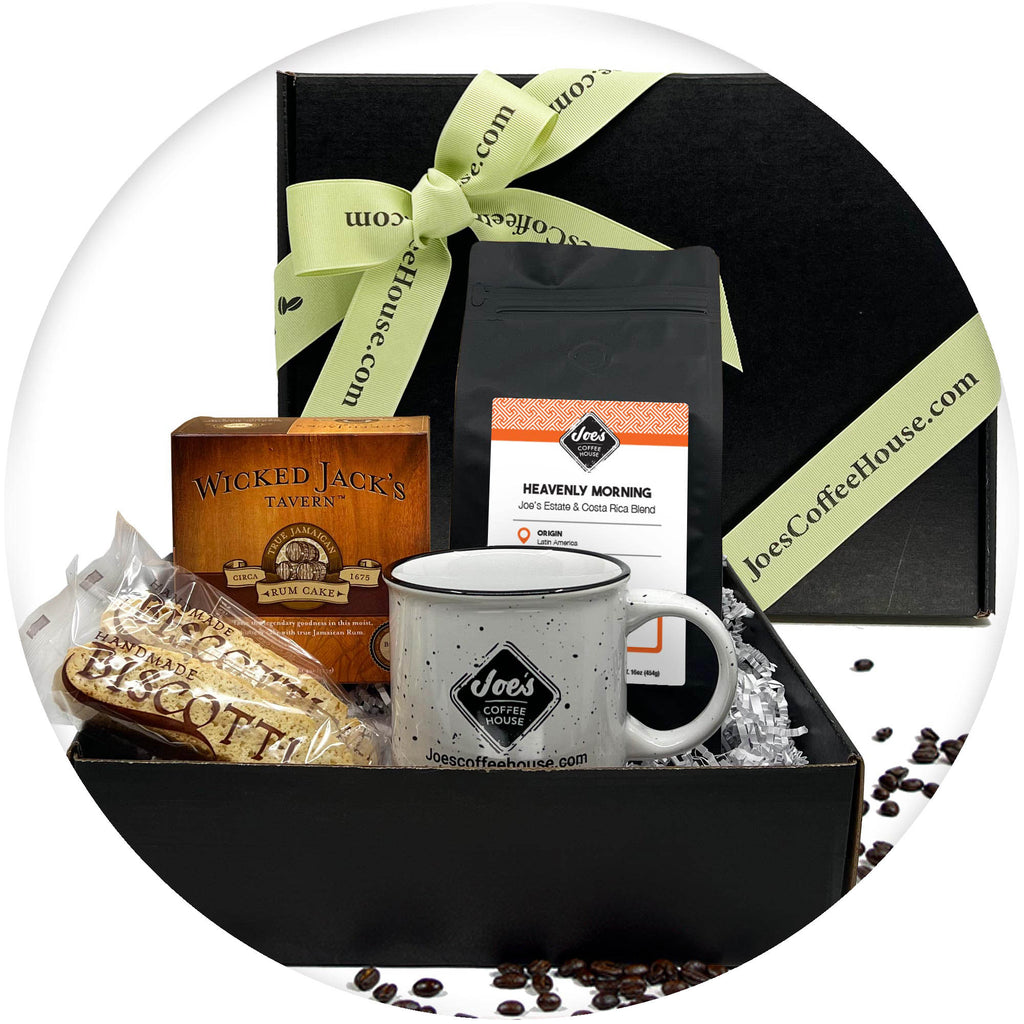 Mornings can be tough, but with our Heavenly Morning Box, they don't have to. Imagine waking up and enjoying a freshly brewed cup of a blend of Costa Rican and Joe's Estate coffee, waking you up with notes of crisp pear, apple, chocolate and caramel. That is what you get with our exclusive blend, Heavenly Morning. What can make this a.m. cup of coffee even better? How about the option to take in on the road in your own travel mug, a delicious Italian-Style Almond Biscotti or a slice of rich Wicked Jack's Tavern Butter Rum Cake? Ensure you have a heavenly morning every day, and order your coffee box today.  
Heavenly Morning Blend Coffee
In the never-ending search for that perfect morning coffee, Joe's has found it. Appropriately named, this coffee offers the smooth and crispness of Costa Rican coffee and the velvety full body of the Joe's Estate coffee. It will be hard to separate yourself from this unique and beautiful cup of Joe's.
• Roast Profile: Medium  
Joe's Almond Biscotti
Traditional Italian-style almond biscotti. Custom-crafted, twice-baked and packaged separately, these scrumptious cookies are made with love from a Joe's family favorite recipe, right in Joe's kitchen! The perfect pairing with your favorite cup of Joe's, or just nibbling on their own!  
Wicked Jack's Tavern Butter Rum Cake
Rum lovers and cake lovers will both fall for the exquisite, rich, full taste of Wicked Jack's Tavern True Jamaican Rum Cakes. Carefully crafted recipes derived from generations of Jamaican tradition has produced a rum cake so flavorful, so powerful, it's quickly gained a reputation as the best tasting rum cake available anywhere. Moist, buttery texture and a rum soaked glaze add delicious detail that makes all other rum cakes walk the plank. You'll be swept away with the sweet flavor of homemade caramel, soaked in the finest Jamaican rum. This ready to eat cake is vacuumed sealed in a reusable bakeware.  
Joe's Mug
campfire styled ceramic mug